Acura Maintenance Minder™
The best way to keep your Acura in tip top shape is to perform regular maintenance by following the factory recommended maintenance schedule. But sometimes life gets in the way and it's easy to forget how many miles we have left until the next scheduled maintenance. Luckily, Acura's advanced algorithm driven Maintenance Minder system here to help.
What is Acura Maintenance Minder™?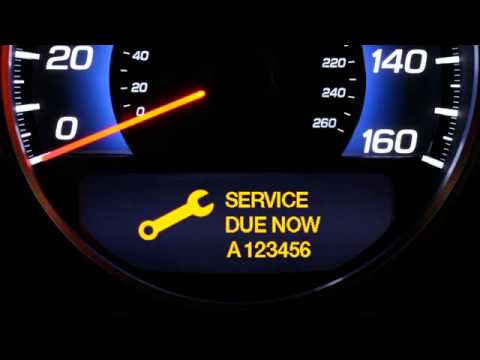 Acura Maintenance Minder™ is available on Acura models from 2007 and up. It measures driving style, road conditions, and helps notify you when scheduled maintenance is due. The system works behind the scene to calculate the life common maintenance items, including engine oil, oil and air filter, brakes, tires, coolant, spark plugs, timing belt, water pump, valves, and rear differential fluid. When the vehicle is due for service, a message will display on the dash to alert the driver that maintenance is required. A service code will display alongside the message to indicate the type of maintenance the vehicle needs.
What do the Service Codes mean?
When the system detects that the oil life is at 15%, the Maintenance Minder™ indicator light will appear on the dash. The Information Center will also display the precentage of oil life remaining. You can return to the odometer/tripometer by pressing the Select/Reset knob.
In addition to the oil life, a Service Code will also display a letter and sometimes followed by a number. This indicates the recommended maintenance that can affect the performance of your vehicle.
| Oil Life | Message | What To Do |
| --- | --- | --- |
| 15% | SERVICE DUE SOON | Plan to take vehicle in for scheduled maintenance |
| 5% | SERVICE DUE NOW | Take vehicle in now for scheduled maintenance |
| 0% | SERVICE PAST DUE | Service is overdue. Take vehicle in now for scheduled maintenance |
What you should do when oil life is at 15% or lower
| Code | Definition |
| --- | --- |
| A | Change oil and oil filter |
| B | Replace engine oil, oil filter, perform front and rear brake inspection, adjust parking brake, and/or inspect other vehicle systems |
| Sub-Code | Definition |
| --- | --- |
| 1 | The tires needs a rotation service |
| 2 | Check and potentially replace the air cleaner element, drive belt, dust filter, and pollen |
| 3 | If equipped, replace the transmission fluid and transfer fluid |
| 4 | Check and potentially replace spark plugs, timing belt (if equipped), water pump, and valves |
| 5 | The engine coolant is low and/or needs replacing |
| 6 | If equipped, rear differential fluid is low and/or needs replacing |